Who has Amber Rose dated? Boyfriends List, Dating History
Amber Rose has led a colorful life, from her struggles in the past to holding her own Slutwalk Event. The American model and television personality initially gained fame in 2008, as the girlfriend of the famous rapper Kanye West. She has since been linked to many celebrities after their break-up, and has made a name for herself in the entertainment industry.
Amber Rose Levonchuck was born in 1983 and raised in South Philadelphia by Dorothy Rose, her mother of Cape Verdean descent, after her parents' divorce. It was said that Michael Levonchuck, her father of Italian and Irish descent, served in the US Army for 20 years, and it was only much later when she was an adult that they reconnected and became close.
She tried working as a stripper when aged just 15, under the pseudonym Paris, to earn money when she and her mom became homeless. However, she quickly realized that dancing on stage with her boobs out was not for her.
Posted by fashion2model on Tuesday, August 30, 2016
As she turned 18 and became more comfortable with her body, she went back on stage as an exotic dancer, which she did until she was 25, later saying 'I was young, beautiful, I was on stage. I wasn't ashamed of my body.'
With her exotic looks and voluptuous figure, it didn't take long for her to break into Hollywood. She got her start as an actress in an episode of Discovery Channel's paranormal drama anthology "A Haunting" in 2007. She was then seen in the music video of Young Jeezy's "Put On" featuring Kanye West in the following year, but it was her appearance in Ludacris' "What Them Girls Like" music video in 2008, that people noticed her as she sported a buzz cut dyed blond and worked at it.
Amber signed with Ford Models in 2009, and began her career as a model. Having a style of her own made her stand out and be recognized as a fashion icon, gracing the cover of fashion magazines, and appearing on the catwalk during Fashion Week.
Happy Valentines Day! @FashionNova pic.twitter.com/Qnz86Oq7e3

— Amber Rose (@DaRealAmberRose) February 14, 2021
She also launched her own eyewear line, and clothing line – Rose & Ono.
She was a favorite on radio and TV talk shows, as she never held back on interviews, and she even wrote the book called "How to Be A Bad Bitch."
On her sexuality, she admitted to being bisexual, as she dated women for about six years before deciding to date men exclusively. Here's her impressive list of high-profile relationships and dating rumors.
Kanye West (2008-2010)
When the popular American rapper and record producer flew Amber to Los Angeles to shoot his "Robocop" music video, what eventuated was more than the MV, but was never released for undisclosed reasons. A relationship began that lasted for two years, after the two hit it off the moment they first met. Amber attracted the attention of the public when she posed nude lying down with her head on the lap of a fully clothed Kanye as he sat on a couch for his sneaker line Yeezy's Louis Vuitton campaign.
They made a striking couple as they rocked wearing matching ensembles whenever they attended fashion shows and red carpet events. He was seen chugging a bottle of Hennessy beside Amber on the red carpet of the 2009 MTV Video Music Awards, then grabbing her butt and engaging in other public displays of affection while inside the venue.
The two broke up in 2010, and things became ugly years later as they engaged in a Twitter feud after giving interviews that didn't sit well with either of them, with Wiz Khalifa and the Kardashians becoming involved in the mix. In 2012, Amber reportedly accused Kim of being a homewrecker, and that the latter and Kanye cheated on her and the NFL star Reggie Bush, Kim's boyfriend at that time. She apologized to Kim a week later, as she knew calling her names was a mean thing to do, but at the same time insulting the popular reality TV star by saying she should not have stooped down to her level.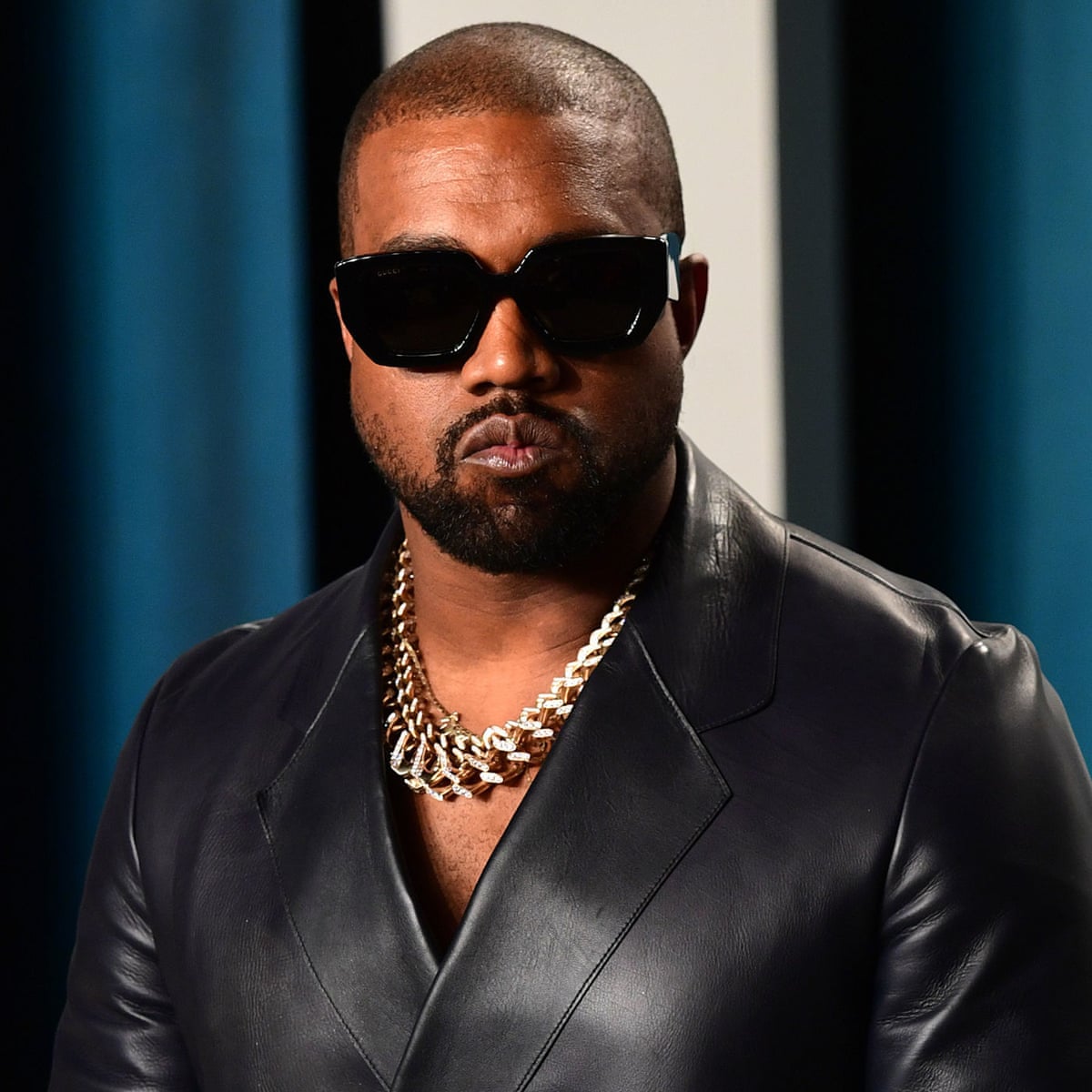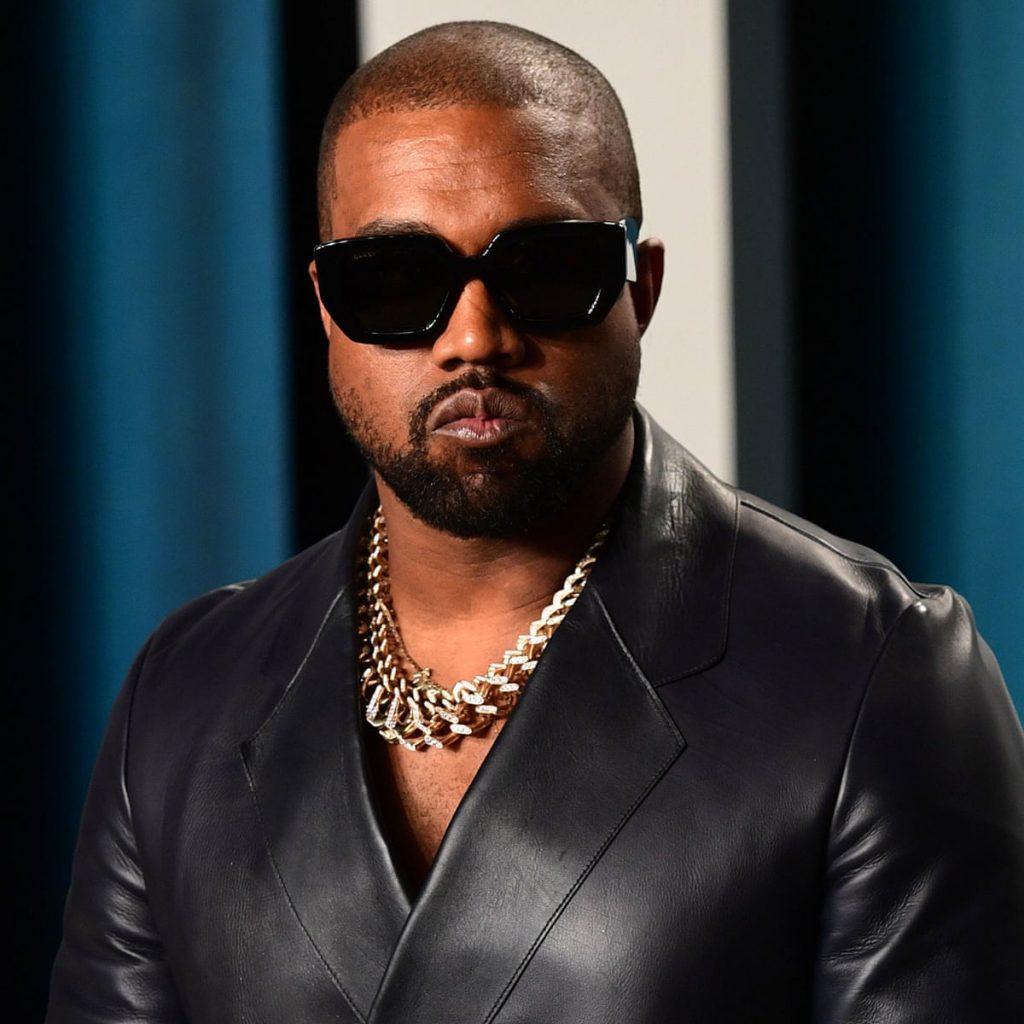 In 2015, the "Heartless" singer said that there wouldn't be an Amber Rose if only Kim had dated him when he first wanted to be with her. He also said that it was 'very hard for a woman wanting to be with someone that's with Amber Rose' and added, 'I had to take 30 showers before I got with Kim.' Amber said she never 'snitched on him' because of the love they shared, and would just leave it to the 'Kartrashians' when they were done with him.
Kanye called her a prostitute at one of his presidential campaign rallies in 2020, and she couldn't understand why he was slut-shaming someone he once professed to love and stayed with for two years, saying 'I don't know if he says things to make his wife more comfortable.'
On being Kanye's girlfriend, she said she never asked for or wanted the attention it gave her, and she never gave interviews during that time because she didn't think of herself as famous. However, once she realized that the public scrutiny hadn't stopped even when they were no longer together, she decided to just go with the flow, be herself, and speak her mind.
Wiz Khalifa (2011-2016)
Amber was flattered when in an interview Wiz Khalifa named her when he was asked, 'If you could be with one girl, who would it be?' so she hit him on Twitter, supposedly just wanting to give him a pair of sunglasses. The American rapper and singer-songwriter took this as an opportunity to meet with her when he went to L.A. At that time, she wasn't interested in dating another rapper, but fell in love with him for 'not being tainted' with the Hollywood lifestyle as he was about 'smoking weed, barbecues, music and just having fun,' which was what she needed in her life. They started dating in 2011, and married in July 2013. Amber had a miscarriage but became pregnant again a month later, and their son Sebastian "Bash" Taylor Thomaz, was born in February 2013. She read books on being a mom and doing the right thing, as she wanted the best for her baby.
In 2012, Amber dropped her solo singles, "Fame," which featured Wiz, and "Loaded." She also rapped in "Rise Above," from Wiz's fourth studio album, "O.N.I.C."
However, Amber filed for divorce in September 2014 citing irreconcilable differences, although there were reports that she caught him having a threesome with twin sisters, and that it wasn't the first time her then-husband cheated on her. According to Wiz, being in that relationship at his age and with everything that was going on around him wasn't right for him adding, 'It helps to walk away sometimes, even though it was super hard.' She had a tattoo of Wiz's face on her upper left arm, said to have been replaced by the face of a guy who resembled the Guns N' Roses guitarist Slash. The divorce was finalized in 2016 and they celebrated it at the Ace of Diamonds strip club. Reportedly, in the divorce settlement, Amber would receive $1 million as per their pre-nuptial agreement, and monthly child support of $14,800 for Bash, while Khalifa kept the 10 luxury cars and Pennsylvania home; they shared physical and legal custody of their son.
In 2016, when the "See You Again" singer called Kanye out for being disrespectful toward the Harlem rapper Max B with his choice of the album title, Kanye retaliated by dissing Wiz's work and included the latter's three-year-old son in his rant on Twitter as he posted, 'You let a stripper trap you. I know you mad every time you look at your child that this girl got you for 18 years.' Naturally, Amber didn't react well to that, saying 'Awww are u mad I'm not around to play in ur asshole anymore?', with the hashtag FingersInTheBootyAssBitch. Kanye has since deleted those tweets, and apologized for bringing the toddler into the mix as he knew it was wrong. Wiz only had this to say, 'It's all good. There's competition in rap, and Kanye obviously sees me as that.'
Nick Cannon (2014)
It was rumored that Amber cheated with Nick Cannon during her marriage with Wiz Khalifa, and it was brought about when she signed with the latter's NCredible Entertainment Management Company the same month the divorce papers were filed.
Nick Cannon isn't banging Amber Rose, it just LOOKS like they are… http://t.co/vG8DO8UxeO pic.twitter.com/qhNSy7u5GI

— TMZ (@TMZ) October 20, 2014
It didn't help that the American comedian-rapper and his wife, Mariah Carey, separated and filed for divorce at the end of the year. However, it was said that her cheating rumor came from Wiz's camp, to get the heat off their artist.
Chris Brown (2014)
A video of Amber grinding on the American singer-songwriter Chris Brown at the Supper Club in L.A. surfaced in December 2014, and sparked rumors that the two were dating. However, she cleared that up by saying it was just a 20-second dance, and she did it because she was being petty as she was hurting at that time; apparently, it was just an attempt to make Wiz jealous. She said that Chris was family, like a brother, and not someone she had the potential to be with. A source who was there that night said that although the two were getting a bit hot and heavy on their dancing, they were seen joking around and didn't take it any further than that. The "Kiss Kiss" singer was single at that time, as he had broken-up from his on-again, off-again girlfriend Karrueche Tran around two weeks prior to that night.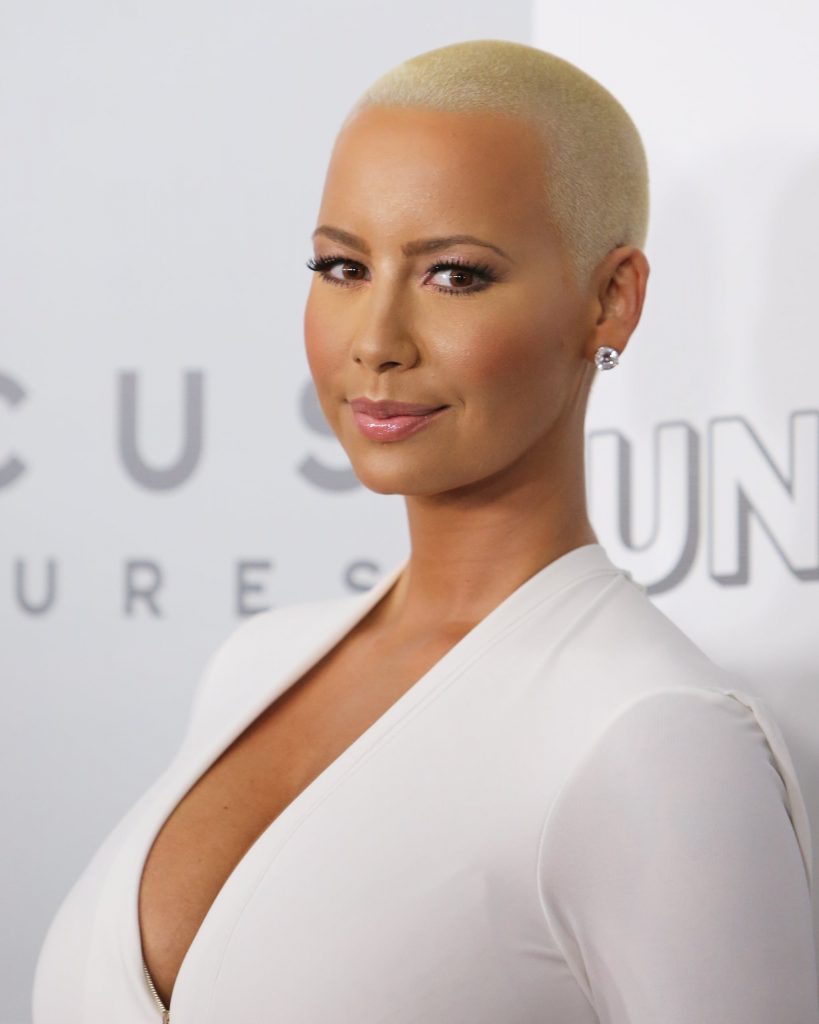 James Harden (2015)
Amber's Valentine date in 2015 was revealed in a radio interview to be Houston Rockets' shooting guard, basketballer James Harden. She said 'Me and James have a very special relationship, for sure…but I didn't get the "D" yet', adding that it might happen 'if he acted right' that Valentine. She met him in Las Vegas in January, and had a conversation with him which led to a nice friendship. The public became aware of this when she was spotted sitting courtside during the Rockets-Blazers game at the Toyota Center that month, as she cheered for her new beau.
Some were not surprised at this development, considering that the superstar player had a thing for models/strippers. What Amber and James had was just a fling, as it had ended all too soon as James was seen with Khloe Kardashian in Las Vegas as they spent the Fourth of July weekend together.
French Montana (2014, 2017)/ Zach Kharbouch (2014)
Amber took to Instagram in 2017 to shut down the dating rumors between her and the Moroccan-American rapper French Montana, after she was seen taking a dip with him in the ocean. The two were first romantically linked back in 2014, as they were reportedly caught kissing at the Club Lit in New York, but she denied that they were dating, saying he's just a friend whom she called 'My Bruvaaa', and added 'I'm going through a divorce and technically I'm single, but I'm just not ready for that', wanting to focus on her work and her son. Fans were wondering if she and French, whose relationship with Khloe Kardashian ended in September 2014, were just finding comfort in each other's arms.
When French appeared as a guest in "The Amber Rose Show," the two talked about the rumors surrounding them in the past. He also revealed that she was like his psychiatrist, as he always went to her when having problems, and when he wanted to catch his balance.
There were also speculations that her boyfriend was actually French's younger brother Zach, as the two spent some time together at Knott's Berry Farm as they enjoyed the Halloween festivities in 2014, but were keeping it a secret due to her custody battle with Wiz over their son. However, they weren't alone, as French and other friends were also there. She also denied that they were dating.
Val Chmerkovskiy (2016 – 2017)
Amber dated the Ukrainian-American professional dancer, Val Chmerovskiy, for five months. The two met during the 23rd season of ABC's dance competition TV series, "Dancing with the Stars" in 2016, as she was partnered with his brother, Maxsim. They were seen out on a date in October, and said to be making out that night. They only went public with their relationship in January, as they began posting photos of themselves together on their Instagram accounts. When they watched a New York Nicks basketball game, they were caught on the kiss cam, as Val gave her a gentle kiss on the cheek.
Amber Rose and Val Chmerkovskiy are dancing away with the title of cutest kiss cam: https://t.co/htNvFDqEnO pic.twitter.com/ukaikIpgms

— E! News (@enews) January 18, 2017
Val defended his relationship with Amber when fans left comments on his post criticizing her, and said that only the opinions of those who knew and loved her mattered. On their eventual split, he said that things didn't work out between them as they led very different lives, but he would continue to support and defend her against narrow-minded individuals. Amber said they broke up as 'it's just how life works sometimes.'
21 Savage (2017 – 2018)
In July 2017, Amber posted a photo of herself and the rapper 21 Savage in bed, with the caption, 'It's pretty amazing waking up every morning feeling love like this.' She was grateful for having him in her life, as he was not only spoiling her but was also protective of her. He said she's a cool woman who treated him like a king, so he would not tolerate any disrespect against her, as he said, 'Keep your mouth closed, no hoes, no bitches, no nothing, 'cause I'm pulling up.' He was nine years younger than her, but she claimed that they were perfect for each other.
Obviously that was somewhat premature, as he broke-up with her in March 2018. She believed that their relationship went downhill when he attended the Slutwalk event with her in October 2017, and even held up a sign that said 'I'm a h*e too!' in support of her cause, but was affected by the online bashing he received because of it. There were also rumors that she cheated on him with one of his crew, but when 21 Savage was asked about how things were between them after the break-up, he said he and Amber were cool.
Monte Morris (2018)
She caught the eye of the Denver Nuggets basketball player Monte Morris, and they met through a mutual friend in 2017, but only started dating in June 2018. They were photographed holding hands when on a date at Universal Studios theme park, and caught a ballgame in July. They reportedly went exclusive just after a month of dating, but had called it quits before the NBA season started.
Alexander Edwards (2018 – present)
Has Amber finally found her Mr. Right in Alexander Edwards, Def Jam Records executive, as they apparently live happily with their son, Slash Electric Alexander Edwards, and her firstborn, Bash.
The two first met in 2015, but it was only in September 2018 that they began dating. A short clip of the two kissing went viral, with Alexander even posting it on his Instagram account. They were spotted together at her fourth Slutwalk event in October, then Alexander threw a surprise birthday party for her, and she couldn't contain her happiness in her Instagram post: 'Thank you My Twin. I love you with all of my heart…This is the best Bday ever!'
In 2019, they shared their excitement when she became pregnant, and revealed the gender of their baby as he said, 'Even when it's dark.. my SON will shine. Thank u baby 4 my greatest gift. s— wild! I love you.'
Amber Rose welcomes her second child with beau, Alexander 'AE' Edwards (Photos)Amber Rose and her boyfriend Alexander …

Posted by Naijacelebzone on Thursday, October 10, 2019
In a lengthy Instagram post, she shared that Alexander came at a time when she has had enough of the way she had been treated in her previous relationships, such as having to apologize for things that she shouldn't have to, as well as being manipulated and gaslighted. She pushed him away at first, but with his love and patience, she overcame her 'fear of loving someone in the most healthiest way again.' He made her a better person, as he was someone she could really talk to as he listened to her, and understood her. 'In the past I've used the words 'best friend' very loosely…but I can honestly say I feel like this man really is my BEST FRIEND!'
Her Instagram post in 2020 had people wondering if they had married, as she wrote, 'Happy Birthday Baby! Thank you for loving us so much and being the Amazing father and husband that you are!' However, there was no confirmation if they had indeed tied the knot, or it was just a slip of the tongue. Whatever the case may be, it only meant that she was very happy with him.
Amber Rose, fondly called Muva (mother) by her fans, is an empowered woman who hasn't tried to hide her past, or pretends to be someone she isn't. She's opinionated, outspoken, and was no longer bothered by the criticisms that she received for the way she lived her life, and for what she believed in. She was bashed when a photo of her wearing a thong minikini that left nothing to the imagination as she posed on a balcony was posted online in 2015. However, as a self-proclaimed MILF, she said, 'just because you're a mom, doesn't mean you can't be sexy anymore.'
On being called a slut for the way she dressed, talked, and behaved in public – 'I'm embracing that s–t because people are gonna think that I f–ked everybody anyway.' She said that in Hollywood, you couldn't hang with somebody without everybody thinking that you are 'f—ing.' Despite having dated a lot of men, she stressed that she's a serial monogamist, as she could only focus on the person whom she really cared about.
Let's hope that that continues to apply to Alexander!