Lizzy Anjorin narrates how her husband & doctor tricked her to keep her pregnancy
Popular Nollywood actress, Lizzy Anjorin opens up on the circumstances that led to her pregnancy despite wanting to adopt a baby or trying surrogacy because of her fear of carrying a baby.
In a lengthy post via Instagram, Lizzy Anjorin noted that before her wedding, she already agreed with her husband to have the child through surrogacy so she could have time to focus on her career.
Read her full narration below …
"Prt 1..From under grass to unlimited grace ..
.
Baby ? I love it
Marriage ? Hummm🙄
Pregnancy? Am not a fan at all.
As a young determined & carrer lady that doesn't have who to fall back on .
Lizzy Anjorin narrates how her husband & doctor tricked her into keeping her pregnant
I belive pregnancy can delay or destroy you and it can make you
..My opinion though…..
I had one b4 and I realise a woman with nothing ( education/ self employment) is not fit for marriage if you are not grounded .
* iya loma fin j'eyan especially an ophan..
.
Cos of my fear for pregnancy, we opted for sorrogacy even before our wedding.
.
A day to part payment we visited the doctor and we needed to check if the 2 of us were fit to do it…
After some tests, the doctor said..Madam you have no eggs in your womb.
I was like 🙄
1st thing that came to my mind was…….
Chai!!! They already said it o
Who now help me use my womb for ritual without my consent ?
But how do dey know on social media that I do not have womb, bawo ?
I neither drink; nor smoke never do drugs in my whole life. So wetin come chop my womb??🤣😂
So many crazy questions at that moment.
Doctor gave us a note for 3d scan.
I was not even intrested anymore
My hubby forced me to go for the scan.
I didn't bother myself for result. All I had in my mind was how to sell my lands, clothes and jewelleries.
It was arike that collected the result and took it to the doctor.
I careless about all these issues faa !!!
Chai!!!
Poverty is like cancer, no mater how rich you are, you will always fear the werey before your own god.
Sebi egg no dey inside womb abeg let me go and make money joor.
I winked to my hubby and drove off 🤣😅 hubby said * omo-ale🤣
The next day dr. Mk was smiling.
He said madam like I said, you have no eggs in your womb what we can see here is a beautiful baby and this scan result showed that it might had happened on your wedding day😂🤣
Just hold on with ur part-payment for sorrogate or adoption.
I was laughing and smiling mr lawal was so very happy he was jubilating as if nigeria win world cup?🙄
.
Now na dat mr lawal happiness come spoil everything.
Pt 2..From under grass to unlimited grace..
.
I was wondering why his own happiness come pass my own???
Then satan come make me rethink and reason beyond god😂🤣🤣
I began to rethink why is this man happy?
Did he want to destroy my carrer?
Who will help me advertise
All my property & clothing business?
Will everything hold for 9months ?
Then I told him I want to abort it and go for sorrogacy.
I sat him down,
"darling, plz consider my age, my business, my everything.
I cannot be on hold for 9months bla bla bla"
Mr. Lawal said, if that is what you want, no problem
We spoke with the doctor he said ok, but I will go through some tests,. They can't just remove it cos of my age they have to do some tests and know when to remove it..
Mr lawal and this dr tricked me till I get to 5months.
I said *dr mk* plz, we are running out of time, when are we doing this thing now? My tummy don dey come out jare , I was very angry and the dr. Replied me, 'madam you will carry this baby I cannot kill a child'.
I said 5months is not a child na blood joor. I was scared.
I said lizzy this pregnancy can destroy your plans.
Remove it and stay strong
I began to bring back my old memories about my 1st child 24yrs ago.
I mean, scary memories .
Then I called arike to get me something to flush it.
Arike said, mummy do you know how many children you have helped ?
Your customers will not go.
Things will be fine..I was like this girl mumu sha…….No matter how rich you are, pregnancy can make someone go broke if you dont maintain ur source of income.
I realised na only me know the reason, others are not getting my point.
.
Dont forget I have my responsibilities b4 I got married which I will never force on my husband. Whatever he gives we work around it
I told my husband we can afford sorrogacy. Why is everybody bent on destroying my career?
You all want to kill me at this age?
Mr lawal suspected my new moves. The plan to get rid of the baby.
Then he blocked me from people. He became my bodyguard, my driver, my nanny, he abadoned his own plan and business. He dedicated his time 24/7 to monitoring me. He counseled me so that I will not act funny.
Pt 3 loadin
Prt 3 from under grass to unlimited grace
.
He became my prayer warrior.
*dr mk* was available 24/7 to attend to me.
.
Mr lawal you have helped me achieve 2 things that I feared most in my life.
Success & marriage.
.May you live long to eat the fruit of your labour on me and everything you lay your hands on 🙏🙏
I will repay you with the last blood in me, may god help me🙏
You are not perfect akanbi mi, but you make everything possible even when I lost hope since 15yrs back. You were there.
Dr mukoro you are more than a doctor; you are an angel in human form. Heaven will stand for you 🙏
Nb: about my business
I strived so hard to meet up with my clients and customers, even with oxygen mask on me, I spoke with them.
I do my advert back to back even when I passed out many times on field.
I came online to engage my fans with educational talk-shows.
Even when I was feeling weak and tired.
.
*if you have parents that provide for you 2ru out ur growing up, pick a phone, call them tell them you are grateful you will never never understand how hunger can damage brain of a homeless child*
.
Nb1..Plz don't always feel entitled or hate people base on your assumptions or hearsay…
To survive in life is warrr
.
Nb 2 ..It's not everybody that are getting married are despirate for pregnancy in this era.
Many legit means of having babies are available….Stop cooking up stories or presure on innocent people
* olorun lon somo eniyan ko*
For every sweet mother looking for fruit of the womb, you shall all come out and give a sweet testimony like this by this time next year lola osu ramadan yi 🙏🙏🙏
.
E bami dupe lowo
Oba asetan maku
Oba to peganmire
🙏🙏🙏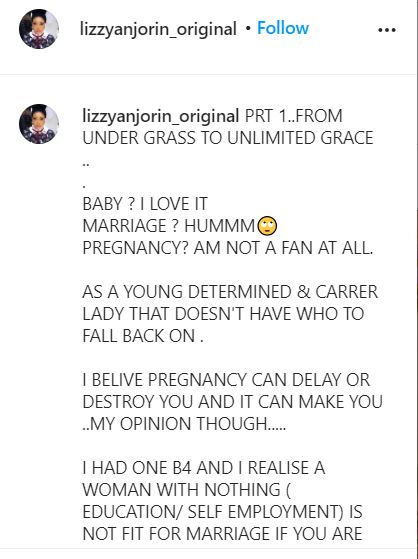 Lizzy Anjorin
Lizzy Anjorin
Lizzy Anjorin