Actress, Biodun Okeowo buys new car, gets another car gift same day (Photos)
Nigerian Nollywood actress, Biodun Okeowo, popularly known as Omoborty has become owner of two brand new cars in one day.Biodun Okeowo car
The heavily endowed thespian took to her official Instagram page in the afternoon of Wednesday, January 13 to share the good news with her fans.
According to her, she had ordered for one car, but upon coming out to take delivery of her car, she saw two new cars, a Mercedes Benz and a Lexus car packed right inside her home, with one being a gift from an undisclosed philanthropist.
In her words, "Where do I start from 😭? I paid for a car from @unique.motors last year December precisely. The funniest part is, I just balanced the payment few days ago after sealing about 3 huge endorsements deals that I'm yet to unveil.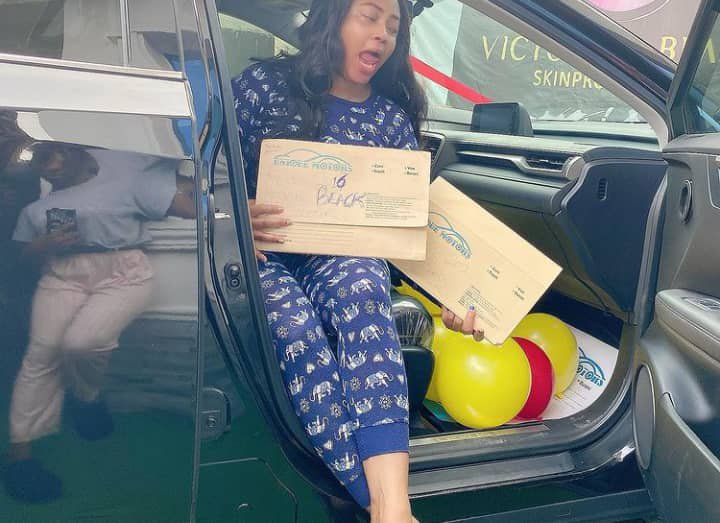 "2021 is my year and great already. My car was supposed to be delivered yesterday but I wasn't available. And boom this morning @unique.motors and @royalhugssurprises came with more than a surprise 😳.
"When I stepped out, what caught my attention first was the gigantic money mountain from @royalhugssurprises 😳😳😳. Then I saw another car instead of mine that I paid for.
I asked for the car I purchased and it was parked right at the back of the car gift. Omg!
And the message from @unique.motors was that someone contacted us to deliver a 2nd car to you as a gift 😳😳😳.

"Me a car gift plus the one I bought! In this my small compound? Oh God of Miracle 💃🏻! I thank you ABBA FATHER 😭🙏!

"Please perfect what you have started in my life 🙏 Jehovah! My God!! Jesus!!! Who I be 😭? But wait o! Hmmmm only two people knew about my purchase from @unique.motors …. could it be you ❤️?"