Who has Tyga dated? Girlfriends List, Dating History
Tyga is an American rapper and television personality, who gained prominence in the hip-hop community when he released the song "Rack City" in 2011, which peaked at No.7 on Billboard's Hot 100 chart. Success didn't come easy to him as it took him more than just two albums and several mixtapes before his own song landed in the top 10 list. However, it was his association with one of the Kardashian girls that catapulted him to the consciousness of the general public, not only locally but internationally. His name and activities trended online mostly because he dated Kylie Kardashian.
Tyga (Thank You God Always) was born Michael Ray Stevenson on 19 November 1989, in Compton, California, to Vietnamese and Jamaican parents, and was raised in Gardena. As a kid, he was exposed to rap music largely because of his cousin Travis McCoy, who was with the rap/rock band called Gym Class Heroes. He then became an avid listener to successful rapper artists Eminem, Fabolous, and Cam'ron and was inspired by them.
Golden with the new flavor in your ear 👂🍭Tyga #XtriMix IS OUT NOW https://youtu.be/Oerb2Y4sg38#GoldenXtrim#XtrimEntertainment

Posted by Carlo Bretti "Golden Xtrim" on Friday, June 25, 2021
He gained confidence with his songwriting and submitted his songs to online chat rooms to get feedback. Tyga would also join numerous rap contests in schools.
He started making mixtapes after Travis invited him on a tour with his group, and that experience exposed Tyga to the intricate world of the music industry. It was also his cousin who helped Tyga land his first recording contract with Bat Squad Records, which was part of the Decaydance label owned by Pete Wentz. He then started releasing tracks, and later signed a record deal with the better known label Young Money Entertainment, founded by rapper-producer Li'l Wayne.
Tyga's controversial dating saga
Rappers were not only known for their prolific songwriting skills and swag, but also for their impressive ability to date some of the hottest women in the entertainment industry. It was said that Tyga had dated around 28 personalities, but only a few associations lasted longer than six months. Here are some of the most note-worthy relationships and hook-ups that he's had.
#1 Kiely Williams – The first public relationship (2007 – 2008)
Around the time that Tyga released his mixtape "Young on Probation" in 2007, he also started to mingle with people from the music industry. His first known public relationship was with Kiely Williams, the former member of the pop group, 3LW. Kiely also found success as an actress in the Disney musical TV movie called "The Cheetah Girls" and its sequels. The relationship lasted for about a year.
#2 Chanel Iman – The supermodel (2008)
Just as Tyga was trying to establish his name in the hip-hop community, with the release of his independent debut album "No Introduction" in 2008, he was reportedly wooing the model Chanel Iman. She started her modeling career at the age of 12, and it only took her four years with Ford Modeling Agency to have a shot at the Supermodel of the World contest, which she won.
It didn't take long for the rapper to get her to say yes, and in May of 2009 they officially announced through Vogue Magazine that they were in a relationship.
Chanel said she was quite impressed when she received a Balenciaga bag as a Christmas gift, not because it was an expensive brand but that Tyga knew it as such, saying that it was quite rare for men to be in the know about the latest in fashion. However, Tyga has always been interested in fashion, and was clad in Louis Vuitton and YSL accoutrements during the interview with the magazine.
#3 Jordan Craig – The first wife (2010)
When Tyga dated Jordan Craig a decade ago, no one knew that it was that serious for them to get married. It was only in May of 2019 when it was revealed to the public that Tyga tied the knot with the 18-year-old Jordan on 6 September 2010 in Los Angeles, but as with his previous relationships, it didn't last long, as the rapper filed for divorce just a month later, granted in 2011.
It wasn't a surprise that no one knew of their marriage, since she wasn't relevant yet at that time.
Jordan only started her career as a social media personality in 2012, with a fashion and lifestyle blog, and it was only in 2014 that she found herself in the limelight, when she was impregnated by professional baller Tristan Thompson, but who then left her to date Khloe Kardashian. Tyga, on the other hand, was still creating a name for himself. Neither of them thought that their names would become entangled again years later, when he became involved with one of the Kardashian girls.
#4 Blac Chyna – The baby momma (2011 – 2014)
In 2011, Tyga dated Angela Renee White, otherwise known as Blac Chyna, who gained media attention after appearing as Nicki Minaj's stunt double for Kanye West's music video for the song "Monster" in 2010. She also piqued the curiosity of many fans when rapper-superstar Drake mentioned her in his song, "Miss Me." The former stripper appeared in magazines such as Straight Stuntin, Black Men's Magazine, and Dimepiece.
Tyga met Blac Chyna when she was chosen to star in the music video of his song "Rack City", from his second studio album "Careless World: Rise of the Last King," which landed at No.4 on the Billboard 200 chart; it was his first album released under a major label. He and Blac Chyna had a son named King Cairo Stevenson in October 2012, and in December that year announced their engagem,ent. Everything seemed to be going well for the couple until they split up in 2014.
While she said in an interview that he never cheated on her, it seemed that she was thrown out of the house because Tyga was already heavily interested in Kylie Jenner, with Blac Chyna saying that she was the reason that their relationship ended. He denied the allegations several times, since Kylie was still a minor back when the rumors started. Fans thought that it was the end of Tyga-Blac Chyna drama, but since they became entangled with the Kardashian brood, the media's interest in them rose, and  they found their names as trending topics on Twitter and Instagram.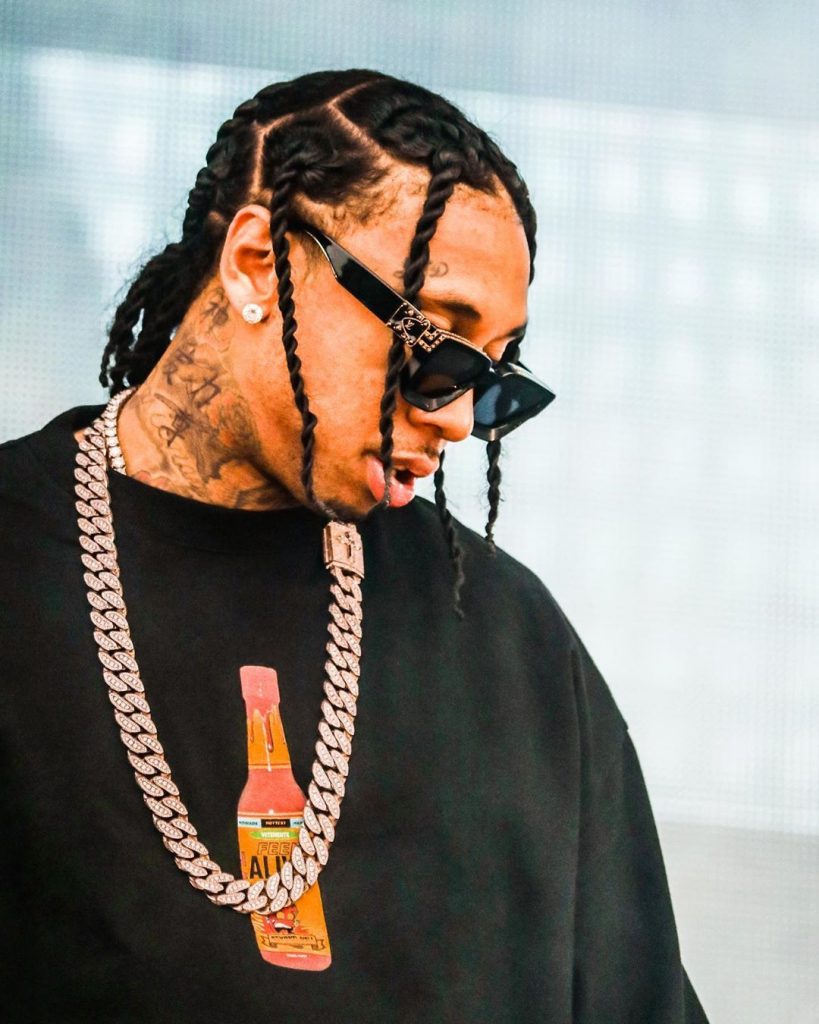 #5 Sophia Body – An alleged hookup (2012 – 2013)
Before Kylie came into the picture, Tyga reportedly hooked-up with Sophia Body in 2012, although some sources said that her thing with Tyga wasn't even t, hatbut just an encounter.  She was a French-Greek model who hailed from Toronto, who gained mainstream popularity when she joined the eighth season of the supporting cast of the reality TV series, "Love & Hip Hop: New York", allegedly booted out after she had an altercation with other people in the show. She now lists DJ as one of her professions on her Instagram profile.
#6 Kylie Jenner – Most controversial relationship in Tinseltown (2014 – 2017)
In 2014, Tyga was featured in Kylie Jenner's Instagram account during the latter's 17th birthday post, and fans couldn't stop talking about them. The age gap was enormous, and yes, she was still legally a minor. The dating rumor made so many people uneasy that even her popular sisters and mother denied that something was going on between the two, except for friendship.
Kylie, the reality-TV star and entrepreneur, was the youngest child in the Kardashian family.
Kylie Jenner and Tyga step out in his 'n hers ensembles for dinner – https://t.co/0UQbv0hiB7 – #kylie jenner, #tyga pic.twitter.com/suufeqZckL

— Riley and Kylie (@rileywithkylie) August 2, 2016
The Tyga-Kylie connection started when he performed in Kendall Jenner's 16th birthday celebration in November 2011, when Kylie was still 14 years old. People noticed that she was lightly flirting with the rapper, which was shown in an episode of "Keeping Up with the Kardashians." The two became friends and started hanging out after they saw each other again at Kanye and Kim's wedding. When Tyga ended his relationship with Blac Chyna, rumors went wild that it was because of Kylie, although he posted a denial on Twitter in September 2014, saying 'Don't believe the rumors, been friends with the family forever. We're all just friends.'
However, after a month she began appearing in Tyga's Instagram posts. In this era of social media platforms, this development was as good as an official announcement of being a couple. When Kylie posted a photo of them together wearing matching Halloween costumes, such as Chucky and Chucky's Bride, the press and fans had a field day. The controversial couple even fueled the rumors by being spotted leaving together after a Grammy weekend celebration.
The Tyga-Kylie scandal web became more entangled when the model Amber Rose, the ex-girlfriend of Kanye West who was Kim Kardashian's husband joined the fray, said during an interview that it was shameful of Tyga to leave a beautiful woman and their baby for a little girl who just turned 17. She's good friends with Blac Chyna and felt that she needed to say that. Khloe Kardashian came to her sister's defense, saying that there were always three sides to the truth, and people shouldn't judge her sister without knowing the facts. Kanye, on the other hand, declared that the two were in love and that it was smart of Tyga for getting in early on.
It seemed that the two were just waiting for Kylie to turn one year older so they could publicly announce their relationship to avoid the issue of Tyga dating a minor. Indeed, after celebrating her 18th birthday, there were no more denials, particularly when he gave her a brand new Ferrari 458 convertible as a gift. They were seen everywhere engaging in PDA whenever they felt like it.
However, they reportedly broke-up once, amid rumors that he slept with a transgender, while she dated Canadian singer-rapper PartyNextDoor. Tyga ,wooed her back and they were spotted getting cuddly again in public and he gave her a new Maybach when they celebrated her 19th birthday together.
Rumors of an engagement came out after her Instagram post showing a huge ring she received from him, although she denied that it was for their engagement. There were also rumors about a sex tape of the couple making the rounds on online porn sites, but she vehemently denied it, declared that she would never be caught on a sex tape, ever.
Officially, the relationship lasted for two years before they called it quits in April 2017. The break-up was reportedly caused by Blac Chyna's revelation that Tyga allegedly wasn't paying child support. It also didn't help that the former stripper started dating Kylie's only brother Rob Kardashian in January 2016.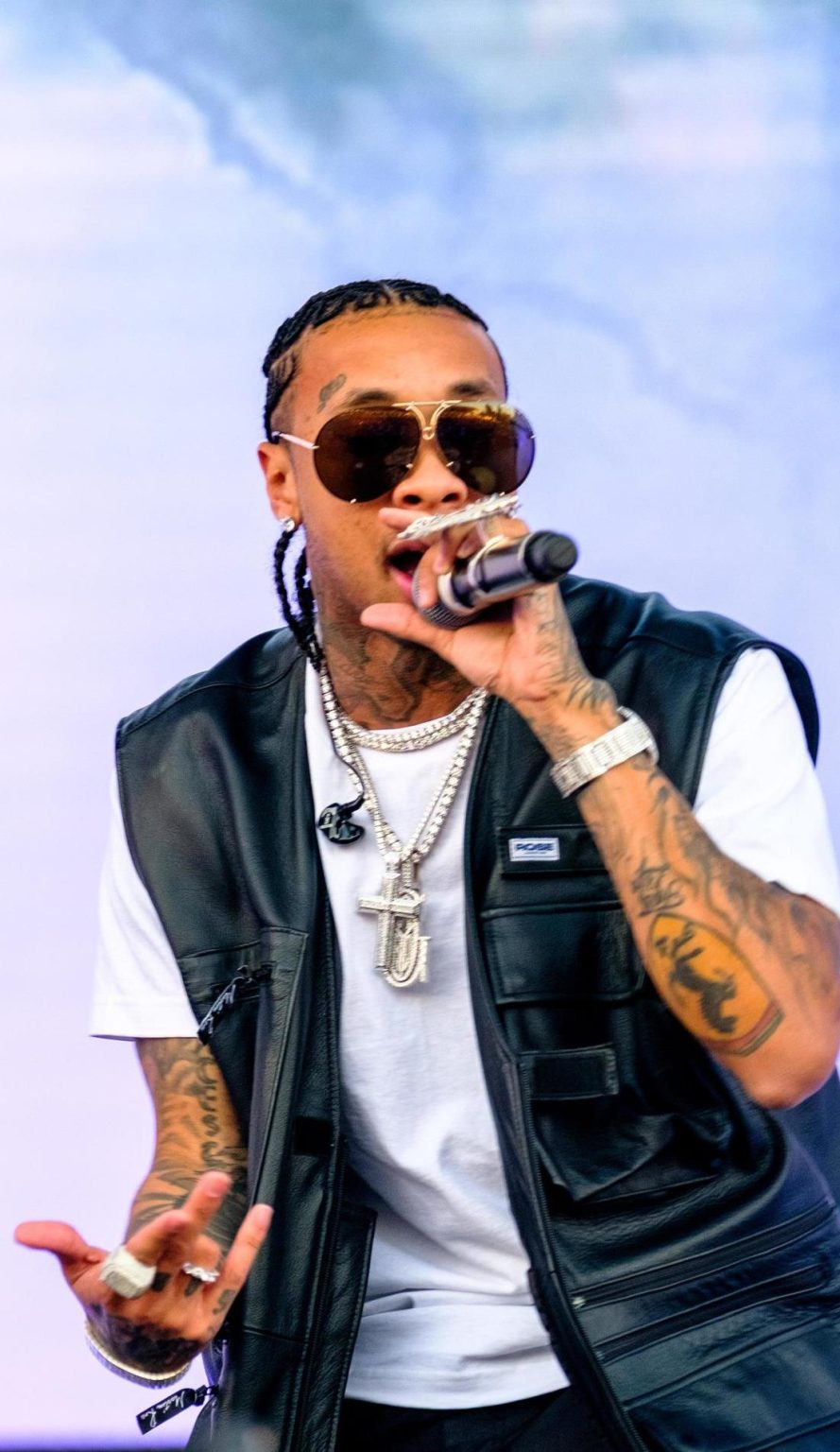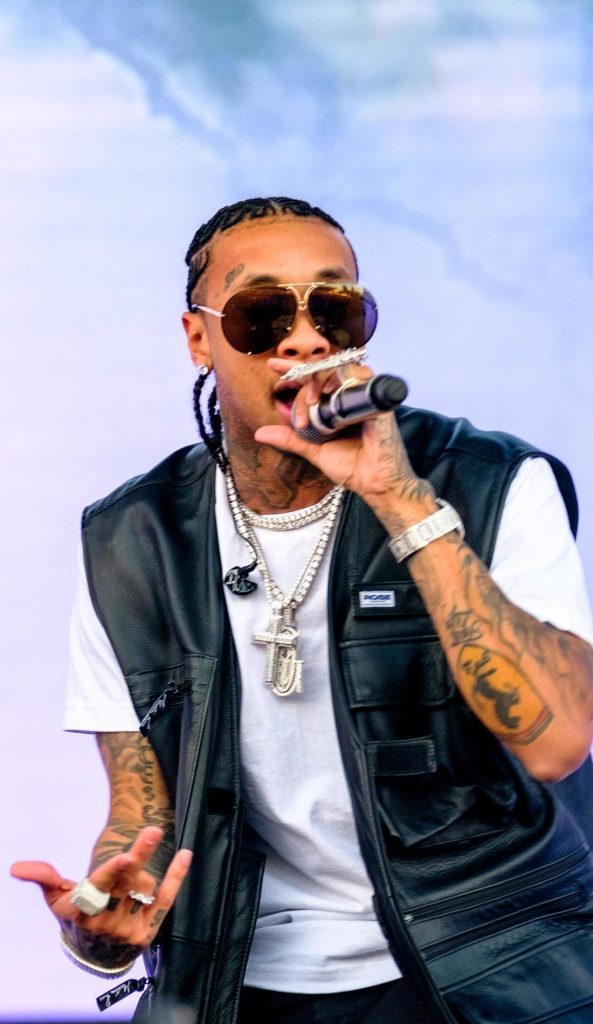 After just 10 weeks of dating Blac Chyna, they became engaged in April 2016, and while the relationship complicated things in the Kardashian home, everyone warmed to it when they discovered that Blac Chyna was expecting a child, and it was revealed that she was a great influence on Rob at that time.
#7 Demi Rose Mawby (2016)
After Tyga and Kylie separated briefly in 2016, Tyga was on the prowl for a new girl, and had a fling with social media star Demi Rose. The British Instagram model's stature went up when she dated Tyga, after he took her to the Cannes Film Festival, and were inseparable for a while. Fans couldn't help but notice her resemblance to his ex-girlfriend, Kylie, and she was immediately referred to her as Kylie's doppelganger. Her Instagram following had about 16.7 million but she said she was already popular in school since the MySpace era. Her regular posting of sexy selfies helped her gain fans, but dating Tyga increased her followers exponentially, and opened more doors for her including featuring in several music videos of other artists.
She wasn't coy about her brief time with Tyga, saying that they did like each other, but logistics played a huge part in their decision to split-up.
#8 Amina Blue (2016)
Tyga was reportedly single again, but was said to have dated Amina Blue, an American model with German-Pakistani roots. Photos of her having fun in the sun with Tyga in Jamaica went viral, and fans soon concluded that he had moved on, and found a replacement for Kylie.
Amina became popular as one of Kanye West's muse for his clothing line. Kylie's brother-in-law was said to have been fascinated with Amina's exotic look that even at ,5ft 1in or 1m55, she was allowed to walk for Kanye's fashion shows, Yeezy Seasons one through three. When she walked wearing a full body stocking with a bra top and nude bikini, she attracted a second look from many, and they never stopped looking. She has since appeared in magazines and other fashion events.
The dating rumors were unfounded, since the reason for Amina being with Tyga in Jamaica was that she was featured in his music video, or MV for the song "1 of 1."
A backlash ensued after the MV was aired, as some were annoyed at Tyga for featuring Amina – a white girl – instead of Jamaican models, particularly that he's half-Jamaican and they were filming in Jamaica. Fans also criticized his song for being very similar to a couple of Drake songs, such as "Controlla" and "One Dance." People speculated that if there weren't other issues surrounding his new song, the two could have ended as a couple, but Tyga denied all these dating rumors by posting, 'Single. Focused. Blessed. Living Life,' on his Instagram.
#9 Iggy Azalea – Denied (2018)
After the Tyga-Kylie drama, fans were surprised that Tyga apparently engaged in another high-profile relationship, this time with Iggy Azalea. The dating rumors were all over various social media platforms, with sources claiming they saw the two getting cozy and hugging at the yearly music extravaganza, Coachella, in 2018. They arrived on the scene holding hands, with Tyga's arm around her shoulders during the concert.
The Australian rapper, singer and model, who conquered the hip-hop and pop mainstream music after appearing on the cover of XXL Magazine's 2012 Freshmen Class issue, Iggy Azalea crushed the rumors, telling everyone during an interview with entertainment reporters that she and Tyga didn't cuddle or hug at Coachella, but since there were too many people at the concert, they might have been standing pretty close to each other. The "Fancy" hitmaker further explained that even when you went out with a group, people would only notice the most popular ones, and assume the worst. She declared that she was 'extremely single' at that time, but fans were somewhat skeptical about her denial, since she was known to have dated a certain type of man, including rapper A$AP Rocky and NBA player Nick Young.
#10 Tammy Hembrow – The wet wipes girl in "Uno" (2019)
Quickly moving on, rumors went viral  in January 2019 that Tyga was dating the Australian fitness guru, model, and social media star Tammy Hembrow.
#splitsvilleTyga x Kylie Jenner could be done..

Posted by Fly Fridays on Friday, November 20, 2015
Fans assumed that she was the girl on Tyga's remix on Ambyaay's song, "Uno," in which he used explicit words in his rap verses describing his sexual experience on the parking lot of the In & Out burger joint. Some fans were aghast at the lyrics 'Go Tammy, keep dancing, you nasty, no panties. Get a wet wipe, that'll come in handy. And that p***y hit, b***h, you deserve a Grammy.' However, Tammy said that she'd already heard the song before it hit the airwaves, and that she approved it, adding that people should relax, because it was just a song and wasn't real. The Instagram star with more than 12 million followers denied that they were dating, and said they were just friends.
#11 Bella Poarch – The Tiktok queen (2020)
When Bella Poarch was linked to Tyga, it created so much fuss online; she was hailed as one of the TikTok queens for having close to 73 million fans on the social media app. They collaborated to make TikTok videos in September 2020, and when fans realized that they filmed it in Tyga's Los Angeles home, it was assumed that they were dating.
It would have been just fine since both of them were single, but the rumors didn't stop there, but ballooned to them making a sex tape accessible on the subscription-based social media app called OnlyFans.
Bella Hoard was born in the Philippines but was raised in Hawaii, and worked in the US Navy. She became a social media influencer after she made it big online after posting a Tiktok video of her lip-syncing to Millie B's track "M to the B." It took only a month before it became the most-liked video on TikTok, and has now attracted close to 50 million likes.
She addressed the sex tape issue, saying thatit wasn't true at all; to her credit, there has never been any evidence to the claim – no such tape has floated on the internet to this day.
#12 Camaryn Swanson – Current girlfriend (2021)
Tyga officially has a new girlfriend named Camaryn Swanson, a fashion designer and social media influencer based in Miami, Florida.
Camaryn has regularly featured in the rapper's social media account, including Tyga sharing in a post his date with his son King Cairo along with his new girl at Walt Disney World. She was also seen with Tyga flying aboard a private plane, and receiving a luxury brand watch from the rapper for her birthday. Fans speculated that the huge diamond ring on her finger could be an engagement ring, and that the couple was just keeping the news to themselves to avoid being a media spectacle, as happened to his past relationships.
Sources closed to Tyga said that the rapper had matured, and was keeping his personal life under the radar. It seemed that he wanted to distance himself from all the past issues he's been involved in, saying in an interview that the never-ending controversies with Kylie Jenner overshadowed his talent and every accomplishment he worked hard for.
Well, make of that and his current association what you will – has this leopard changed his spots? Don't hold your breath for too long!